Student Season Pass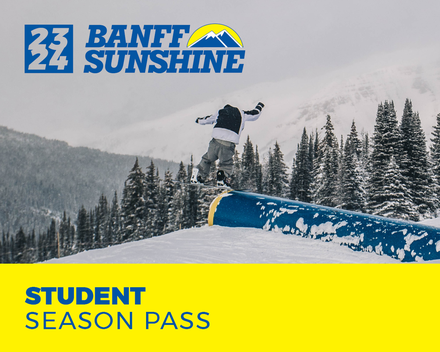 Product Description
With 7 months of skiing or riding, we have the longest season in the Rockies! Along with an amazing season, this pass comes with great benefits and savings at the Sunshine Mountain Lodge and more!

Student season passes are available for student guests who are 18-29 years of age as of December 31st of the ski season*. Students must be enrolled full-time at an accredited Canadian College or University for both the Fall and Winter Semesters. Student ID along with a copy of the current course curriculum is required at the time of redeeming the pass to verify eligibility (minimum of 3 classes per semester in both the Fall and Winter Semesters). Co-op students remain eligible with a letter from an accredited College or University. Apprentice programs are not eligible, only online courses due to COVID campus closures and meet noted criteria are eligible. This pass will pay for itself in less than five visits; with seven months of winter, there is plenty of time to head out for a well-deserved break.

*ski season refers to the actual ski season you bought your pass for.

Please ensure you have read the description of this product for any other documents that may be required to redeem your pass, and to make sure this Pass is the right one for you. You will need to confirm your eligibility for this Pass by emailing guestservices@skibanff.com (see the Terms and Conditions for full details).

IMPORTANT TO NOTE:

- You will need to sign a current Release of Liability Waiver and upload a profile photo prior to any Passes being printed and delivered.
- Completed Passes will be mailed out in late summer/early fall, prior to the 2023/2024 winter season opening day.
- Please make sure your shipping address is correctly inputted to receive your Pass in a timely manner.
- Prices do not include GST and are subject to change without notice.
Student Season Pass
CA$919.00
Available