Family Afternoon Pass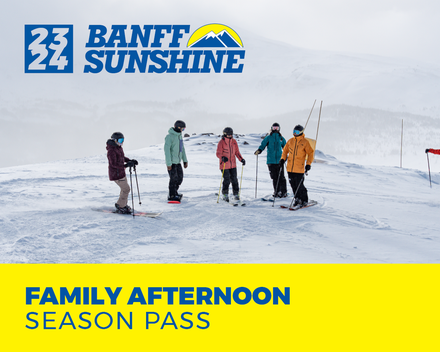 Product Description
Enjoy Canada's best snow from 12pm to last chair.
With 7 months of skiing or riding, we have the longest season in the Rockies! Along with an amazing season, this pass comes with great benefits and savings at the Sunshine Mountain Lodge and more. Spend some quality time with the family this winter at Banff Sunshine Village. With terrain for all abilities, the whole family can enjoy the great outdoors in the Canadian Rockies.

Family Season Passes are available for 2 x parents with children up to 17 years of age, as of December 31st of the ski season in which the Pass is purchased. All family members must live at the same address. Proof of age is required for children/youth family members.

STUDENT FAMILY ADD-ON: Students must be enrolled full-time at an accredited Canadian College or University, and be between the ages of 18 and 29. Apprenticeship programs and online registrations do not apply. Students must also be living in the same residence as the entire family.

Please ensure you have read the description of this product for any other documents that may be required to redeem your pass, and to make sure this Pass is the right one for you.

IMPORTANT TO NOTE:

- You will need to sign a current Release of Liability Waiver and upload a profile photo prior to any Passes being printed and delivered.
- All passholders over 18 must sign their own Waiver. A parent or guardian must sign for all passholders under 18.
- Completed Passes will be mailed out in late summer/early fall, prior to the 2023/2024 winter season opening day.
- Please make sure your shipping address is correctly inputted to receive your Pass in a timely manner.
- Prices do not include GST and are subject to change without notice.
Family Afternoon Pass
Starting at CA$2,569.00
Available
Family Afternoon Pass

CA$2,569.00

Family Afternoon Pass - Adult

Free

Family Afternoon Pass

Free

Family Afternoon Add-On Pass - Student

CA$640.00

Season Pass Optional Refund Protection

CA$90.00
UPC 6265c3ac3df01d283ee6cd14