Youth Season Pass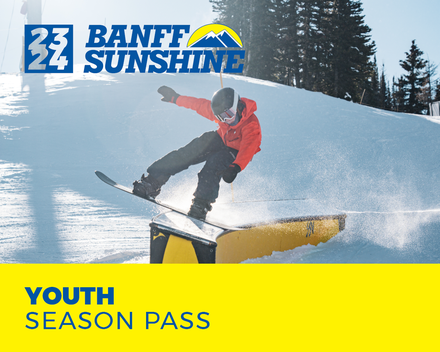 Product Description
With 7 months of skiing or riding, we have the longest season in the Rockies! Along with an amazing season, this pass comes with great benefits and savings at the Sunshine Mountain Lodge and more!

Youth season passes are available for guests who are 13-17 years of age as of December 31st of the ski season*.

*ski season refers to the actual ski season you bought your pass.

Please ensure you have read the description of this product for any other documents that may be required to redeem your pass, and to make sure this Pass is the right one for you.

IMPORTANT TO NOTE:

- You will need to sign a current Release of Liability Waiver and upload a profile photo prior to any Passes being printed and delivered.
- A parent or legal guardian must sign the Waiver for all passholders under 18.
- Completed Passes will be mailed out in late summer/early fall, prior to the 2023/2024 winter season opening day.
- Please make sure your shipping address is correctly inputted to receive your Pass in a timely manner.
- Prices do not include GST and are subject to change without notice.
Youth Season Pass
CA$539.00
Available