C.A.D.S. Adult Season Pass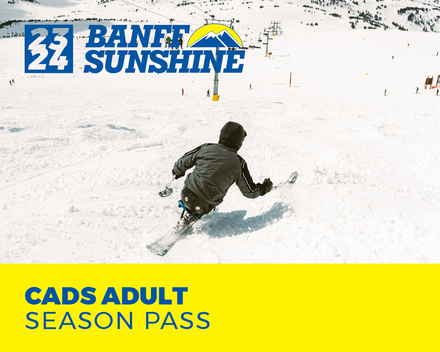 Product Description
With 7 months of skiing or riding, we have the longest season in the Rockies! Along with an amazing season, this pass comes with great benefits and savings at the Sunshine Mountain Lodge and more!

Canadian Adaptive Snowsports ("C.A.D.S.") passes are available for guests that hold a valid CADS Membership. The CADS Membership card must be presented at the time of redeeming the pass to verify eligibility.

CADS Volunteers must be able to present proof of an active membership and a letter from a CADS coach, instructor or employee substantiating the volunteers' involvement with the organization (i.e. past demonstrated volunteer experience or program involvement). Volunteers will not be considered eligible for the Pass if they only hold a CADS membership and cannot demonstrate proof of volunteering.
Please ensure you have read the description of this product for any other documents that may be required to redeem your pass, and to make sure this Pass is the right one for you. You will need to confirm your eligibility for this Pass by emailing guestservices@skibanff.com (see the Terms and Conditions for full details).

IMPORTANT TO NOTE:

- You will need to sign a current Release of Liability Waiver and upload a profile photo prior to any Passes being printed and delivered.
- Completed Passes will be mailed out in late summer/early fall, prior to the 2023/2024 winter season opening day, if ship to me was selected.
- Please make sure your shipping address is correctly inputted to receive your Pass in a timely manner.
- Prices do not include GST and are subject to change without notice.
C.A.D.S. Adult Season Pass
CA$1,069.00
Available