Freeriders 4 Week Adult Ski (18+)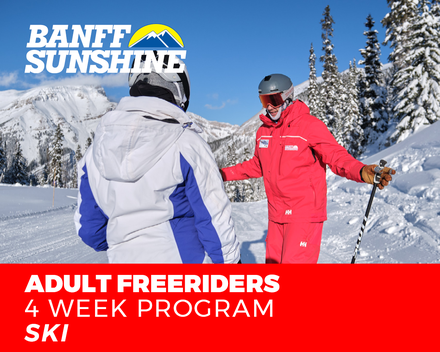 Product Description
Ages 18+ All Ability Levels

When booking your ability level please make sure to book the correct ability level you are skiing or snowboarding at, the ability you book is the group you will be placed in. All participants are assessed on the first week and may be moved to a different group based on the assessments.

If you do not see availability for your chosen date, please call our Ski & Snowboard School Sales desk (403-762-6560) between the hours of 8:30am – 4:00pm MST or email us at: skischool@skibanff.com

Choose the Wednesday, Saturday or Sunday program and come out for 4-weeks of fun.

All abilities from beginner to expert are welcome to join. From basic ski or snowboard skill development to tactical improvement in steeps, bumps, powder and carving we use a step-by-step approach.

Program Date Options:
4-week Wednesdays: January 3rd – January 24th 2024
4-week Saturdays: January 6th – January 27th 2024
4-week Sundays: January 7th – January 28th 2024


Lessons run Full Day from 10:00am to 3:30pm
(Lunch Break from 12:30pm to 1:30pm - if you have not included the Lunch Add On you will leave the group for a 1-hour lunch break on your own and meet back at the lesson meeting area in time for your afternoon lesson at 1:30pm)
If you have included the lunch add on you will enjoy a prepared lunch with your instructor in the Lookout Lounge.

Lunch, Ticket, Rental and Bus Add-ons are available for purchase, but not included.

Groups will be taught by Male and Female Instructors; groups are non-gender specific.

Bought a lift ticket, rental, or bus add-on? You will receive a confirmation email from our sales team that will give you directions on where to pick up your items and what you need to do.

Registration closes December 31st, 2023.
Cancellations after December 31st will be subject to a 50% cancellation fee.
Minimum registration is required for all groups to run; if minimum numbers are not met some programs may be cancelled or combined with other programs. Programs or ability levels with high volume registration may be capped before the registration deadline.
Freeriders 4 Week Adult Ski (18+)
CA$485.00
Available
| Time | Availability |
| --- | --- |
| Jan. 3, 2024, 10 a.m. | 1 |
| Jan. 3, 2024, 10 a.m. | 5 |
| Jan. 3, 2024, 10 a.m. | 16 |
| Jan. 3, 2024, 10 a.m. | 23 |
| Jan. 3, 2024, 10 a.m. | 24 |
| Jan. 3, 2024, 10 a.m. | 23 |